As a first time pregnant mom, I was allllll about all the baby products. I absolutely went through every checklist item on my Amazon registry and made sure I had something from each category. I thought I would need and use ALL of it. 
Narrator's voice: Turns out, she didn't use half of it.
I registered for a Halo Bassinest, the swiveling, state of the art bassinet that had many fancy features like a "diaper changing light" and super impractical sounds like rainforest that I never used, and cost more than two cribs. Now, no shade to Halo, but I stubbed my toe on the enormous X-shaped base about 17 times a day, couldn't move it without some serious elbow grease, and could only use it about 12 weeks before it was clear he was outgrowing it. Besides that, as he got older, the bassinet visually shook anytime he moved around in it, and I felt the fact that the bassinet moved easily caused some of his wakefulness at night.
With my second child, I found the ultimate solution for newborn sleep, and it turns out you don't need a bassinet at all! That's right, I'm here to evangelize you to use a crib from the very beginning! A mini crib, that is! It made my life so much better and easier. Read on to find out why!
A mini crib is often cheaper
This is honestly and surprisingly true. Of course, every category of baby product has a high and low end. However, it was amazing to me to see the popular brand-name bassinets like this Fisher Price one, the aforementioned Halo Bassinest, and this Graco bassinet priced in the $189-300 range, and many popular brand-name mini cribs like Dream on Me, DaVinci and Delta, were all priced around or under $150.
A mini crib can be just as portable as a bassinet, if not more
Many mini cribs have the ability to fold and roll (and you should definitely look for one that has these features!) As in my anecdote about the heavy, X-shaped base of the Halo bassinet, it was very difficult to move it around the room. A lot of bassinets are more hefty without the ability to break down or fold in some capacity. And while some bassinets are portable, there are very few things more portable than a folding, rolling mini crib. 
You can use your choice of mattress with a mini crib
I am not picky about a lot anymore, but one thing I am very picky about is my kids' mattresses. When you think about it, many children spend 50-70% of every day laying on a mattress, asleep. When laying on a mattress, their body heat warms up the mattress and can cause off-gassing. After tons of research, I became a believer in the Newton mattresses, and have never looked back. I feel they are cleaner, safer and more comfortable than many mattresses on the market. 
You can always check out my Instagram highlight here where I share my favorite features and how to wash them (you can wash every inch, inside and out). While I am sharing an affiliate link and get a few bucks for referrals, I am not a partner with Newton and bought both mattresses myself full-price as a mom, because it was the best product I found.
One thing I found, right out of the gate, is that by using the Newton mattress, I felt like my newborns were more comfortable than on the thin bassinet pad. It's hard to explain unless you've seen it, but Newton mattresses are safely firm while also having a little "spring" in them that is much more cozy.
Whether you choose the Newton or not, with a mini-crib you have the ability to choose your mattress with any features or factors that are important to you!
You can still bring the mini crib right up to the bedside
When we got home from the hospital, I put the mini crib directly next to my bed. I felt that there was no difference in closeness between a bassinet and the mini crib. If anything, the open slats of the crib allowed me to see into the crib more clearly than the mesh or fabric sides that bassinets often have. 
As my babies got older, I would move the crib a little further from the bed. Around 3 months, when the regression hit and they became more wakeful, I'd move the crib to the other side of the room so we were less likely to disturb each other out of sleep unnecessarily. And then finally, whenever we were ready, we just moved the mini crib to their room.
You don't have to make a bassinet-to-crib transition
The bassinet-to-crib transition isn't much of a production for a lot of babies, so this isn't a huge point. But it is just one more change that often coincides with the swaddle transition, the 4 month regression, and your sanity going out the window. It's nice to be able to kick the can down the road on any bed transitions and just use the same sleep space from day 1 until toddler age!
A mini crib can fit in many spaces
All of my babies have slept in tighter spaces at one point or the other- whether at home or on vacation. When my husband and I got Covid, we moved my daughter Haddie to our master bedroom closet, so that she wouldn't be disturbed by our coughing through the night, and so she had less of a chance of getting it. It's nice having a mini crib that can be rolled into smaller spaces like a bathroom or closet, even for temporary situations.
My kids fit in the mini crib till 18 months or beyond
While mini cribs sometimes have lesser height or weight limits than regular cribs, they still fit the average toddler well. When they are bigger, you can always transition to a full size crib or a travel crib with a higher weight limit. Still, even though you will likely have some kind of transition eventually, you have a lot more time to figure it out. And the cost of two cribs is still likely to be less than the cost of a bassinet and a crib!
What to look for in a mini crib
Get a mini crib with wheels
As mentioned before, it's amazing to have a bed that's portable. You can make transitions from place to place seamlessly. You can have baby take naps in their room, and bring them into your room for nighttime sleep. You can roll it into the bathroom and let them have tummy time in their crib while you take a shower. There are just so many options when the crib is easily portable. 
Get a mini crib that folds
This feature will mean that you can get the crib through doors and from room to room without having to get the power drill out- a life saver! I am speaking from experience of someone who did not have the foresight to get a folding mini crib. Ours was just barely too wide to fit through the door, meaning whenever we brought it from one room to another, we had to detach one side.
I don't recommend getting a mini crib that has other furniture attached to it
I got a mini crib with a changing table attached. While it was handy in the newborn days, after that time period I often just changed them on the floor or bed, and it made the crib wider and much less portable. The drawers, changing tables and shelves that some mini cribs come with are cute, but if you are going for functionality, I suggest skipping these features.
If you want something GreenGuard Certified, there are lots of options! 
As with the considerations I mentioned for the mattress, I know many parents are also choosy about the materials and safety ratings of their baby's furniture as well. Many of the mini cribs I researched had GreenGuard certifications, and still didn't break the bank. 
Finally, if you are looking for a mini crib and don't know where to start, here are a few suggestions that fit the criteria above!
The Dream on Me 3 in 1 Portable Folding Stationary Side Crib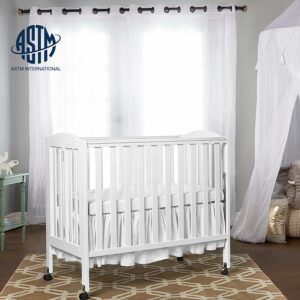 This crib, which comes in simple classic colors, has a 4.7 out of 5 average review rating on Amazon at the time this blog was posted. One review states, "We opted to put our newborn directly in the crib instead of a bassinet. It worked fabulously— the wheels made it possible to gently move the crib back and forth (even on carpet), soothing a colicky and overtired baby to sleep…" 
While we do not have this exact model, the mini crib we own personally is a Dream on Me brand, and we have been very happy with the construction and durability over the years.
Delta Children Folding Portable Mini Baby Crib with 1.5 inch Mattress- Greenguard Gold Certified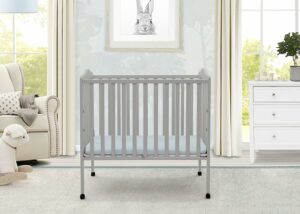 This crib comes in 5 colors and is also a simple design. It also has a 4.7 out of 5 star rating. One review states, "I love the size of this crib and it's portability – I really really love that. The wheels can be taken off very easily if you want them off, and it still looks good…" I did see a few reviews mention that they felt the construction of this crib was more flimsy than others.
Da Vinci Jenny Lind 3-in-1 Convertible Mini Crib, Removable Wheels, Greenguard Gold Certified 
This crib is a tad bit more expensive than the previous two, but I love the style. The spindles add such a nice detail and I think the black color looks so classic and modern at the same time. At the time of this blog post, this crib only has a few dozen reviews, but is rated 4.5 out of 5 stars. 
One review shares, "Beautiful crib, easy to put together – took me 30 minutes with minimal help. I would not use the mattress that it comes with – I didn't know it came with one and was planning on getting a separate one anyways. Definitely a solid and adorable mini crib!"
If you're looking to splurge, this mini crib from Babyletto has gorgeous modern details and comes in some fun colors.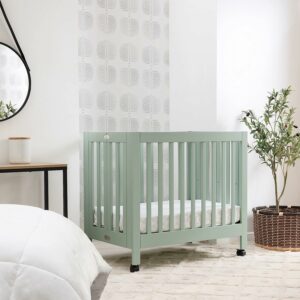 This gold metal crib from Namesake is also beautiful and looks like an heirloom piece.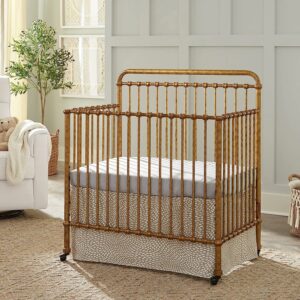 Ultimately, this blog post is simply my opinion after experiencing both bassinets and cribs with my three babies! You may feel differently and prefer something else, and all that matter is that it is convenient for you and safe for baby! 
And just a last little tip! Remember, when choosing a sleep space for baby that safe options will be named a "bassinet," "crib," or "playard." Anything named a "sleeper," "napper," "lounger," or any other similar marketing term has not been approved for safe sleep.
What baby product would you like to see reviewed next?